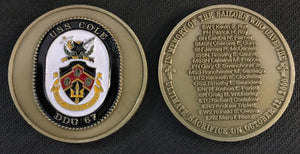 2" Antique Brass Coin, Color 1 Side
On October 12, 2000, the USS Cole was attacked by a small group of suicide terrorists in the Port of Aden, Yemen.  The attack killed 17 sailors and wounded an additional 39 sailors.  Soon after this senseless and barbaric attack on the USS Cole, the above coin was designed and made by the owner of S.O.S. CustomCoins.  The coins were then sent to a Senior Chief onboard the USS Cole for presentation to the families who lost loved ones during the attack on the ship.    As a Navy Veteran of 26 years, I felt compelled to do something for the families after the attack.  The USS COLE Memorial Coins was just a small token to show my deepest respect for fallen shipmates, my love the Navy and my Country.
Soon after the attack, this Memorial Coin was only made available to the families who lost loved ones, their fellow sailors who served onboard the USS COLE during the attack, those in their Chain-of-Command and the President Bill Clint.  The USS COLE Memorial coin is only sold to the families of the fallen or those that served aboard the USS Cole.