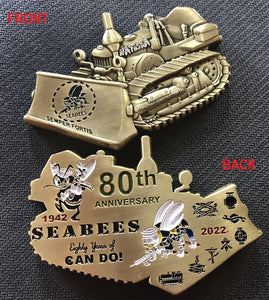 2" x 3" 80th Seabee Anniversary Coin.  
Based on the movie "The Fighting Seabees" and to commemorate 80 years of "Can Do"

Starring John Wayne and Susan Hayward! This action-packed adventure tells a moving fictional story that involves the real Fighting Seabees (Construction Battalions/C.B.'s = Seabees) that built the runways, roads, refueling stations, and bridges that the troops needed in World War II.   The front of the coin is the dozer named "Natasha" belonging to the Donovan Construction Company from the movie.
Wedge Donovan(John Wayne) is the brash, impetuous owner of a well-known construction company that does work for the U.S. Navy. His men face daunting risks in order to complete much-needed military infrastructure projects and Donovan insists that the work is always completed to the highest standards.  Soon the Navy realizes the need for a Construction force that can build, fight and defend and the Navy Seabees are soon born during WWII in the pacific.