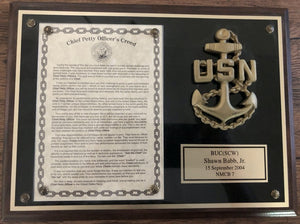 PLEASE ALLOW 14 DAYS FOR PROCESSING YOUR ORDER BEFORE SHIPMENT.
  Beautiful 8.5 x 11 Solid Walnut Plaque with CPO anchor and CPO Creed. Be sure to include name, rate, warfare, date and command for the nameplate. Nameplate provided at no extra cost.
    Included in the package:
    FREE Shipping on orders of $100.00 or more. 
    FREE CPO Coin  "THE HAT" as part of the package 
    FREE Name tag
    Certificates: Included:
    CPO Pledge Certificate
    CPO Re-Birth Certificate
    CPO Core Competencies
    Presentation of Anchors Certificate
    Certificate of Special Recognition
    Wallet Card